Archive for February, 2008
I was talking with the lovely Missfit last night as we were doing a good bit of driving last night, and Metallica's cover of "Turn the Page" came up on the radio. And I started thinking…
Bob has always been there…
See, when I was fairly young, I would often come with my mother to the bar, as I suspect this was the time when my father had a lot of night shifts at the foundry. Of all the things I remember of that time in my life (aside from an elderly babysitter and 700 Club, and this sweet bowling arcade game, for some reason) was always wanting to play "Old Time of Rock n' Roll" on the jukebox. And I recall going nuts on whatever small piece of floor served as a "dance floor". I could not leave the place without getting that one on the jukebox. I think this was my earliest love for music (between that and the Ghostbusters theme, which I also went nuts for on Saturday mornings and on my dad's 8 track). I can't completely recall what came first, my experience with this song, or Alf. Because I remember that first episode with Mr. Gordan Shumway sliding across the floor, doing a karaoke.
Of course my early teenage years were marked slightly by seeing the video premiere ono MTV for Metallica's "Turn the Page" cover. A video I only ever saw on television once, as I suspect from the controversial nature of it. It was a documentary style video of a mother who was a prostitute and stripper to try to take care of her daughter, with a fairly depressing ending.
Then there was Junior year prom. The theme? "We Got Tonight". This became a rather fitting title for that evening, as I had fairly abruptly ended my year and a half relationship with my girlfriend the day before at lunch. (mostly due to crappy treatment, not due to the cheating I found out about weeks later that had occured. But that's about ten other blogs I could write). So after much deliberation, we agreed to go ahead to the prom together, as uncomfortable as it may have been. But, we went, had a good time, mostly apart, and had our "last dance" to the sang/theme of the night.
One day, Mr. Seger, our paths will cross…
See, when I was in High School, all the kids had the drug and sex parties amongst themselves…
At least in Highland Park, they had a responsible adult to supervise…
Kids will be kids…and ex-strippers…
It's cold and blustery in the steel city of Pittsburgh. So grab that laptop, make some hot chocolate, and curl up next to the fire with some Mayhem…
Part 1 Remedy and Sorg start off low key and warm up with the help of PWX's 3 Rivers Champion, Chris Lerusso as we discuss why Indy Wrestling is just so darn swell. Be sure to check out PWX on March 1 in McKeesport, PA, and the Devil Budakahn show in Munhall, PA March 8!
Part 2 We hit the fan mail and talk on the phone with Chachi, Macho Man, and someone found that darn Monkey Head again…
This is Episode 105 for Tuesday, February 26, 2008. You can get the episode here on Talkshoe, subscribe, and as always, stay tuned to www.Wrestling Mayhem Show.com for the latest! The Wrestling Mayhem Show is recorded live and can be heard/viewed from 8 PM to 10 PM Eastern on Talkshoe.com and BlogTV.com.
And of course, we did another round of videos, thanks to our live feed on BlogTV.com.
Once again, my fellow geeks prove they know how to party.
Last night was an interesting milestone, and maybe a new concept. It was the first every "Podcast Release Party" thrown by those industrious guys at the StromHuelsman Podcast. A hair-endowed Lunchbox/Will and myself showed up early (or on time? I'm still not sure yet) and witnessed the newly created pyramid de la Keystone on the porch.
The crowd started to grow, and conversations started to spark. I recall having conversations about everything from blogs to wordpress to a debate on whether the new Transformers suck or not.
It was a good time, and what looked like a great turnout. Podcasters love to get their party on. Big props to the guys for the new show, and the local Blog community to come out in force to support the guys.
Here is Norm's speech from the night via their site.
Tonight was the big Twiztid show at Mr Smalls, and the last of the trifecta of excellent shows for us in Pittsburgh over the last month (considering Kingspade/hed pe and Blaze tours that just came through)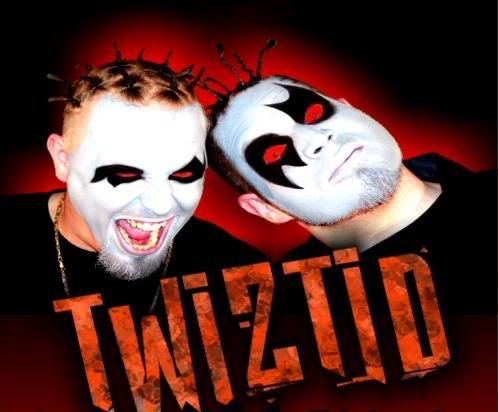 Rolled in after some hairy driving with the freezing rain, tagging along with Chachi and Rick (aka 8-bit and Playa 2 of the N.E.S. Crew, of course) We showed up about a quarter till. Now my ticket says doors at 6. Show at 7. We get in about 7, with the line still wrapped around the building. And we just missed both of the openers, and friends of ours, in Legally Insane and Basick Sickness. Fucking blew. But I talked to Basick and Gimpy, and heard the shows went real well. I hope someone got some video of that shit.
So the first group I got to see was Project Born. Nothing real special that I could tell, but not bad either. Then, of course, we started getting treated to DJ Clay spinning some Psychopathic classics and getting the crowd riled up between sets. This is way better than the massive downtime we usually get at Psychopathic shows like this. Then Bizarre (of D12 and Celebrity Fit Club fame) came out and fucking rocked his shit with King Gordy in tow as hype. While it was rather disturbing for two very large fat men to be running around without their shirts on, it was still a hard hitting set. Then we had Boondox, and I haven't seen a bad set from him yet. Twiztid came up to end the night. They had some mechanical zombies rising out of the fog across the stage as the show went on. Pretty sweet.
This had to be one of the most entertaining shows off the stage as well. We had a pretty good crew going on in the back. From the debates of Penguins and Browns between Chachi and Jeff, to the debate of why Boondox does/doesn't suck I had with Chachi. (I contend I like it over him because I'm from the out there country, of course. Fucking "townie") And just the interesting assortment of people that were around us that I can't even get into.
It was a great night to hang with the Juggalos in one of the most packed houses I've seen at Mr Smalls for a good while (maybe outside of any Kottonmouth Kings show). Caught up with some ninjas I don't get to see very often, with some standing out at the moment of Havok, "Feces", and JuggaloJohn. And of course I got some good time in the pit to get some of this week's frustrations out tonight. These shows never come around often enough for me. So sitting back with some Faygo (it been a while for that too) and taking in this limited tour CD they had on sale tonight.
Night ninjas!
Posted more random webcam videos from the last couple weeks shows. Enjoy!
from WesternPAJuggalos.com
Hey guys! It's another bomb dropped tonight, as we give you the hed pe interview from the Heavyhitters tour a few weeks back. This one has cameos by the Subnoize Family, including Big B and Richter (and his ass, unfortunately). Tune into the video and scope out the after show mayhem…
The Mayhem comes in force with Silent Ninja, fancy hats, and new hairstyles!
Part 1 We declare it fancy hat day on the Wrestling Mayhem Show, see Lunchbox's new do, and welcome our esteemed guest this week, Tanoai Reed, "Toa" of NBC's hit American Gladiators.
Part 2 We hit the fan mail and welcome back some familiar faces, hit some new caffeine drinks, and just go bat shit loco!
This is Episode 104 for Tuesday, February 19, 2008. You can get the episode here on Talkshoe, subscribe, and as always, stay tuned to www.Wrestling Mayhem Show.com for the latest! The Wrestling Mayhem Show is recorded live and can be heard/viewed from 8 PM to 10 PM Eastern on Talkshoe.com and BlogTV.com.
Back in from a great night of wrestling, as usual, at my monthly visit to Elizabeth, PA for IWC wrestling.
Tonight, I was amazed by the names brought in by Norm Conners. We had a lot of Super Indy tournament qualifiers, and saw the likes of Matt Cross (mdogg20 of JCW/Backyard Wrestling fame), Human Tornado (of MTV's defunct WSX), who competed in an amazing match. Jerry Lynn, former ECW, WWE Light Heavyweight, and TNA X Division champion, battled Johnny Gargano in a match that may have made him as an up and coming singles competitor in IWC. And of course, Raven and Sandman combined to fight (recent Mayhem interviewee) Daivari with Dennis Gregory. That on top of some amazing build up matches with the Gambino family looking like an NWO-type faction, and J-Rocc bringing in a new monster to fight Ray Rowe. And, of course, a fantastic draw match between tag champs Jason Gory
and Shiima Xion.
But the interesting part was getting in touch with our fans tonight. I was approached by a couple people about the recent Wrestling Mayhem Show episodes, including a wrestler (not IWC) that has been listening for a few weeks now. Got a picture with another fan, because Jimmy Demarco said to get my autograph this week.
But anyways, a great show. Talked show interviews with a few wrestlers. Got some new pics for the Myspace. And all around just had a dandy time.
Next wrestling experience looks like the Devil Budakahn Memorial Show March 8. It will be a great showcase for ALL of the local area indy talent and a great cause to help the family of a fallen worker.